In this article, we are going to describe, what you can do if your printer is not printing even though it is connected to your computer. We will explain, how to solve that in a few simple steps. For example, when you go to any document and press print, nothing seems to happen. When you click on the printer icon, it shows that the documents are in the printer and it is printing, but nothing is going on with the printer, it is not printing at all.
Below are a few solutions you may want to walk through in order to try to fix your printer issues.
Solution 1: Check Printer Power and Connection
Ensure your printer is correctly plugged into a power outlet and switched on, including the surge protector. Check also that the USB cable that connects your printer to your computer is securely plugged in.
If you're using a wireless connection for your printer, make sure the following is in place:
Turn on the wireless option and ensure it is available for your printer
Run a wireless connectivity test for your printer, check also that your computer is connected to a wireless network (this should be the same for your printer and computer).
Should this not work, go to the next solution.
Solution 2: Check your Printer Status
Make sure your printer has enough paper in the paper tray. If there is paper then make sure none of it is stuck or jammed in the paper feed. If there is please check with your manufacturer on the best way to remove the paper as you don't want to ruin the internal motor or paper feeder.
Is your ink or toner empty? Consult your specific printer's manual for how to check the ink levels or toner level for your printer. New will easily display the ink levels or if there is an ink issue on the front screen of the printer.
Solution 3: Uninstall your Printer, then Reinstall Again
Follow these steps to uninstall and reinstall your printer:
Right-click Start button.
Select Control Panel.
Click on Hardware and Sound.
Select Devices and Printers. You will see a list of devices and another for printers.
Find your printer.
Right-click on your printer, select Remove device.
How to reinstall your printer after uninstalling it:
Right-click start button and select Control Panel.
Click on Hardware and Sound.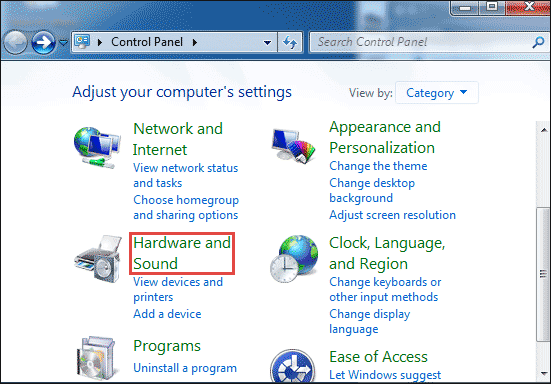 Select Devices and Printers. You will see a list of devices and another for printers.
Click Add a printer, a pop-up will appear that scans for new devices. If your particular printer is on, Windows will automatically scan and find it.
Perform a test page print to see if it is working.
To install or add a local printer, connect the printer to your computer then turn it on.
Solution 4: Cancel all Printer Jobs
This is a bit more technical but not too advanced that you can't give it a try. Many times during the life of a printer, jobs that you send to it for printing can become stuck in the print queue.
If the job in question stays in the print queue it can stop all other printing from occurring normally on your printer. In this case, clearing the print queue of all jobs might help get the newer print requests to go through just fine. Let's begin!
Go to your Windows Control Panel and select "Devices and Printers"
Find your Printer name in the list of printing devices, make sure it's the one you are having issues with. Right-click on that printer and select "See what's printing" from the drop-down list.
When the new page opens click the "Printer" menu item in the top right and select "Open as Administrator" in the drop-down menu
Open the "Printer" menu item in the top right AGAIN and select "Cancel All Documents". At this time a confirmation dialog window may open and you will need to confirm you want to clear all documents in the print queue by selecting "Yes"
Now try running a print again on your printer to see if that was the issue. If that didn't work please try the next steps.
Solution 5: Ensure Correct Color Printing Settings
Ensuring that the color printing option is enabled is important; otherwise, you will encounter issues like my Printer is not printing in color. Here's how you can check this:
Click on the Start menu on your computer.
Click on Settings and go to the "Printer and Scanner" option.
Choose your Printer model from the list of available printers.
Click on the "Properties" tab.
Check if you have turned on the color printing option. If not, enable it and check if the issue is resolved.
Solution 6: Reboot your computer
This is the first line of action whenever such an issue comes up (or any other issues with your computer and any other hardware you may be used along with it). However, if you restart your computer and nothing happens on your printer, you can go to the next solution.
Solution 7: Check The Printer's Ink Cartridge
As discussed earlier, you must ensure that the ink levels in the printer's ink cartridge are sufficient. You can perform the following steps to check for the required ink levels:
Open the printer access door.
Grab the ink cartridge using both your hands and gently remove it.
Check for the ink levels. If it is low, replace the cartridge immediately.
Place the ink cartridge back to its original slot and take a test print.
I hope that you find this article helpful and I as well believe that by now you're able to print from your printer. Thanks for reading and stay tuned for more write-ups from our side.