How to Change Ink Cartridge Canon Pixma Mg5320
You might like to learn How to Change Ink on Canon Pixma Mg5320 but before that, you have to keep in mind some important points to handle carefully.
The machine may not print properly if you touch electrical contacts or the print head nozzle of the cartridge.
You should not let your machine run empty, that is, you should immediately replace the machine with a new cartridge if you remove the previous one.
Always replace the cartridge with a new one as installing a used one might cause the nozzles to clog up and will fail to tell you when should you install a new cartridge.
After installing the cartridge you must not leave it to open-air or else it will dry out and result in hampering your machine's output when the cartridge is reinstalled.
Listed below are steps To Change Ink Cartridge Canon Pixma Mg5320:
Before opening the front cover and the paper output tray, check if the power is still turned on.
Open the paper output cover after the cartridge holder goes to a position for replacement and the headcover opens automatically.
Thrust down the ink cartridge lock lever till it makes a click sound. Take out the ink cartridge.
Then take out a new cartridge from its package and gently remove the protective tape.
Now insert the new cartridge directly into the cartridge holder to fit in so that it touches the back.
Remember that the color ink cartridge must be inserted in the left slot while the black ink cartridge must be inserted in the right slot.
After that, gently push up the ink cartridge lock lever for locking the cartridge into its correct position.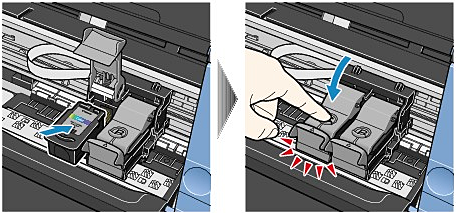 If the ink cartridge lock lever makes a click sound then get assured that your cartridge is fixed into its designated place.
Finally, close paper output cover.
Important notes on ink cartridges
If you remove an ink cartridge, replace it immediately. Do not leave the machine with a missing ink cartridge.
Use a new ink cartridge. Installing a used ink cartridge can cause clogging of the nozzles. On the contrary, if you were to use a use ink cartridge, the machine would not be able to tell you correctly when to replace the ink cartridge.
Once an ink cartridge has been installed, do not remove it from the machine and do not leave it in the open. The ink cartridge may dry out, and the machine will not work properly once the cartridge is put back in place. To maintain the best print quality, change the ink cartridge for every six months.
However, if you find this article helpful on how to change ink on canon mg5320 then do not forget to pass on the shared information to others in need.