Before we go into details on Canon Pixma Printer Troubleshooting, let's discuss first the common reasons that cause your printer to not print at all.
Why My Canon Printer Is Not Responding Or Working?
Empty Ink Cartridges. Having only a small amount of ink inside your printer can already be considered an empty ink cartridge. And having empty ink cartridges can stop your Canon printer from printing documents properly.
Empty Paper Tray. Usually, most Canon printers will show you if it's already out of paper. There would be a blinking light or an error message indicating you're out of paper. Adding more paper to your printer should easily fix this issue.
Paper Jam. Jammed papers can cause a lot of problems to your printer's mechanism. You won't be able to print or copy any documents as long as there is a paper jam inside your printer. Even tiny or small debris can cause your printer to show a paper jam error.
Ink Cartridge Errors. Ink cartridges are vital in your printer's operation, so a simple error on one of them can cause your Canon printer to stop working. Unfortunately, for ink cartridge errors the most common fix is to do an ink cartridge replacement.
Wireless Issue. Most Canon printers are wireless printers. And wireless printers often encounter connection problems either to your computer or your wireless network (WiFi). Not being connected to your WiFi router will cause your printer not to print any documents from your computer or even your mobile phone.
Method 1: Do some basic troubleshooting
Your Canon printer may not be connected to your connection properly. So it's worth checking the connection of your printer.
If you are using a USB cable to connect your printer:
Check if the cable is properly connected. If it isn't, reconnect the cable and make sure they are properly seated into the ports on both your printer and your computer.
Connect your printer directly to your computer without using a hub.
Try connecting the cable to another USB port on your computer and see if this works for you.
You may also need to experiment with another cable and see if there is any problem with the cable you're using.
If you are using a network printer:
Check your network connection as well as your network devices like your router and modem.
View the network connection status of your printer and see if your printer is properly connected to the network.
Reconnect or replace your network cable when necessary if your printer is using a wired connection.
For wireless printers, try reconnecting your printer to your home or work network.
If you connect your printer via Bluetooth:
Make sure your printer is close enough to your computer.
Try re-pairing your printer with your computer and see if this solves your problem.
Method 2: Run the printer troubleshooter
The Windows built-in troubleshooter can check your Canon printer and fix its issues. To run the printer troubleshooter:
Press the Windows logo key, then type "troubleshoot". Click Troubleshoot in the results.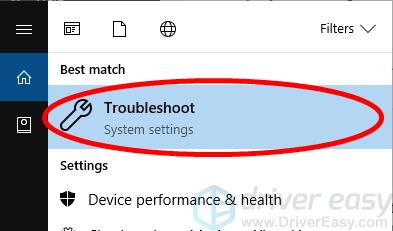 Open the troubleshooter:

If you're using Windows 10, click Printer and then Run the troubleshooter.
If you're on Windows 7, click Use a printer.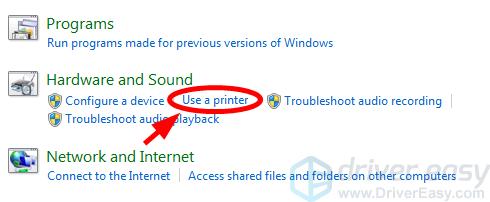 Follow the on-screen instructions to complete the troubleshooting.
Method 3: Restart the Print Spooler service
The Print Spooler service on your computer manages your print jobs and the communication between your printer and computer. Your Canon printer may not be responding because this service on your computer is not working properly. You should reset this service to see if this fixes your printer.
To reset this service:
On your keyboard, press the Windows logo key and R at the same time to invoke the Run box.
Type "services.msc" and press Enter on your keyboard. This will open the Services window.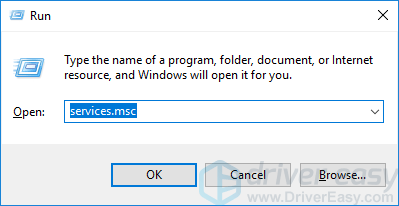 Click Print Spooler, then click Restart.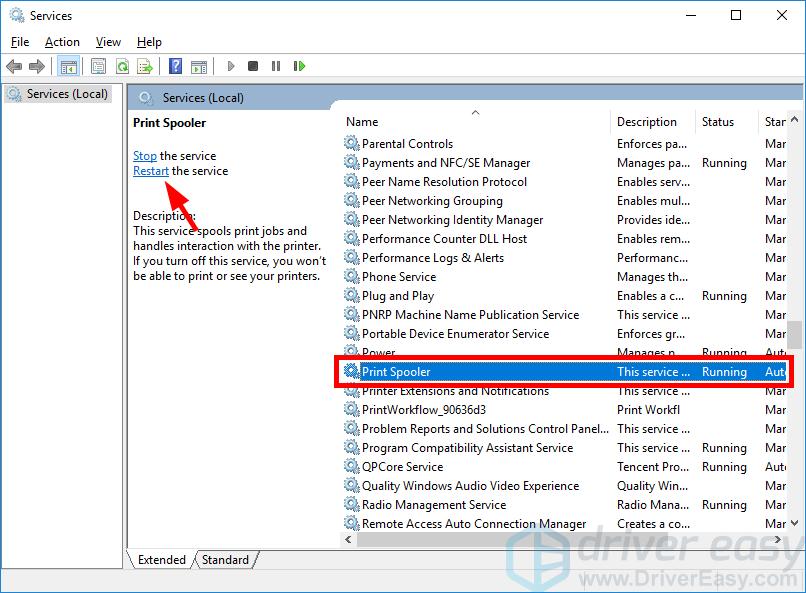 Check to see if your printer is able to print.
Method 4: Configure the correct printer port for your printer
Your Canon may not be responding because you're using the wrong port for your printer. To change the settings of your printer port:
On your keyboard, press the Windows logo key and R on your keyboard at the same time to invoke the Run box.
Type "control" and press Enter on your keyboard.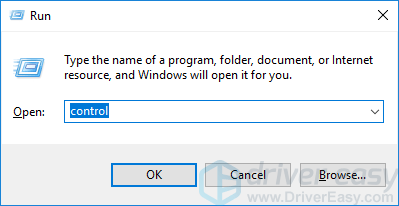 Under View by, select Large icons.
Click Devices and Printers.
Right-click your Canon printer, then click Printer properties.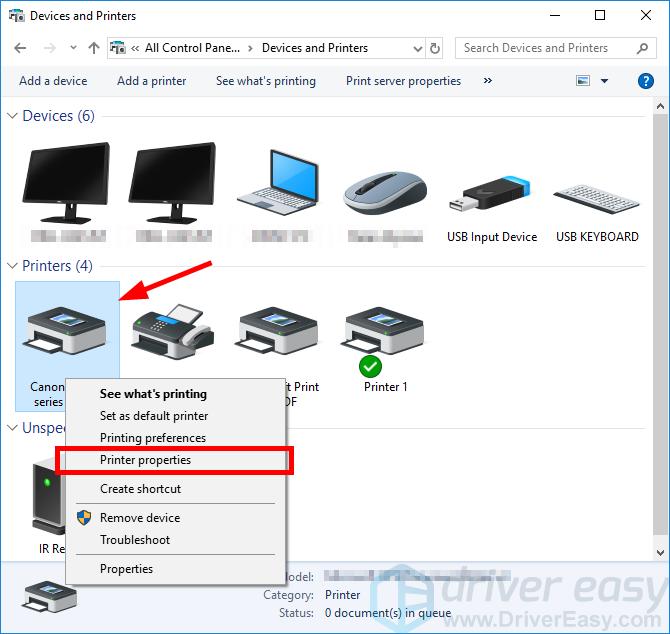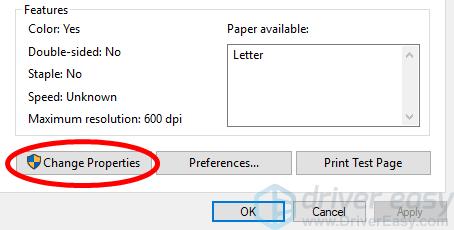 Click the Port tab, then check the port that:

Contains the name of your printer;
Has "USB" or "DOT4" in the description if you connect your printer with USB;
Has "WSD", "network" or "IP" in the description if you are using a network printer.
Click the General tab, then click Print Test Page to check you've made the right change.
We have told you some methods above that will help you to solve canon pixma printer troubleshooting.